During the last six months, Public Intelligence has had a focus on developing a new business area in Japan. The idea came through an exciting collaboration we have had for a couple of years, where we have been working with DNP in Karlslunde – A Japanese subsidiary of Dai Nippon Printing in Tokyo. The collaboration was the start of an interest in, and a want to, much more Japan. We were met by genuine curiosity and a want for developing a relation-based cooperation between Japan and Denmark, where the starting point was that DNP was testing one of their products on good, Danish citizens in different contexts.
In 2017, I touched down in Japan for the first time, with my business partner Britt Sørensen. I was definitely out of my comfort zone and with an insecurity of if we would be able to attract those technology-companies, that we had a faith in would be interested in testing their ideas or products in a Danish municipality or in a Danish hospital.
After a layover in Fukuoka, we find ourselves in the middle of Tokyo. Ready to meet Japan in every way, and with a great expectation that Japan also wants to meet us. Let me say it myself: I make a lot of noise. I talk a lot and loudly. An insight that was exhibited, when I took a ride in the metro. You do not make noise in one of the biggest cities in the world. You are quiet, and in some way, it seems like every body is taking care of itself. There is a calm, and a lot of people take advantage of this calm time during the transport, to take a little well-deserved nap. Because they work hard in Japan, and sleep is something you grab when you can. But I will get back to that later.
Calm is something you have to learn. You don't yell. In general, you don't make a lot of noise, and conversations are not about making noise or being seen. I really have to get used to this, and I find new sides of myself to not seem aggressive or just plain annoying. It is a good challenge and a discipline that I am now starting to enjoy working on. You can make noise when you get back to Denmark.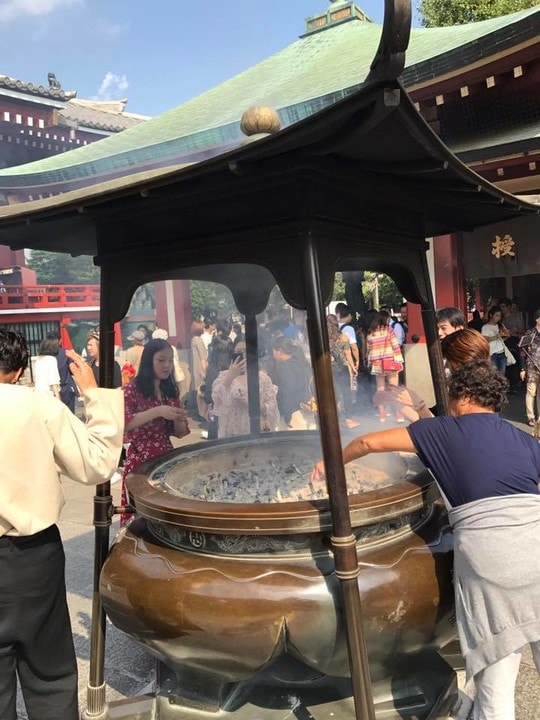 Trust is not just something you talk about
I am looking at an available table. It is a nice sight in a long line of small food stands in the middle of Tokyo. We are out eating with one of Britt's old work colleagues, Lærke. "How do you reserve a table?", I ask her carefully. "You just put your jacket and throw your phone on the table, so that people can see it is occupied", she answers and looks expectantly in direction of all the great smells from the stands. She is gone, and I am left there. You just hang up your jacket and leave your iPhone? I go all in. I leave my jacket and phone and go for food.
I am relieved when come back to see the jacket, phone, Britt and Lærke. You don't take other people's things, just because they are on an empty table. Great. We can learn something there. Such a lesson that trust and respect are not just words. It is incorporated in the society. In all actions and in real values.
We are just being ourselves – respectfully
Our approach is just being ourselves. There are a lot of others who try to adapt themselves to a Japanese culture, but we experience in our meetings, that our new Japanese relations appreciate that we, of course, behave respectfully, but also as those Europeans we are. It seems like our openness and way of being, represents a differentiation parameter and a selection criterion for those customers, who have already chosen to do business with Danes or Western Europeans in general.
Naturally, that doesn't mean that we are throwing around business cards or avoid greeting politely the very exciting people we meet. We meet people with respect, and with a respect for their values and traditions, but we behave like we usually do. We occupy a lot of space, much, much more than most Japanese. At the same time, I experience, that it creates an interest and curiosity in knowing more about who we are, what we offer to a society in grave need for thinking about health care – and welfare innovation. The challenges of the future have to be met by new welfare and exciting technologies.
I write what pops into my head, when I sit down with the computer. I try to do it as real as possible and would love if you could like, share or comment on my stray thoughts.